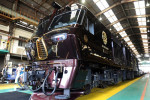 Kyushu Railway unveils luxury sightseeing train
Date: Sep. 13, 2013
Source: NHK WORLD
A railway operator in Kyushu, southwestern Japan, has unveiled a luxury sightseeing train that will debut next month.

The Kyushu Railway Company, known as JR Kyushu, held a ceremony on Friday to mark the completion of the "Seven Stars".
President Koji Karaike said each of the train's cars is decorated with artwork by master craftsmen and their sophisticated pieces will surprise passengers.
The train is painted with dark red and thin gold lines. All but one of the sleeping cars has 3 cabins for 2 people.
Each cabin has a shower and a toilet with washbasins made of locally produced Arita porcelain. The lounge car has a piano and a bar.
Eiji Mitooka, who designed the train, says he wanted to make the "Seven Stars" comparable to the Orient Express. He also says he hopes people regard the train in the ranks of the legendary international express.
Kyushu Railway will start 2-day and 4-day tours to major tourist destinations in Kyushu on October 15th.
The charge for a 4-day trip is as high as 5,700 dollars per person. Tours are fully booked until next June.
About Cruise Train Seven Stars in Kyushu
Cruise train booklet available for download