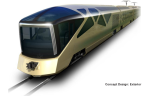 JR East to launch new luxury sleeper train
Date: Jun5, 2014
Source: The Yomiuri Shimbun
East Japan Railway Co. is ramping up efforts to increase the number of passengers who travel by train for sightseeing purposes. The company will launch a luxury sleeper trains service for affluent individuals as early as spring 2017. Also, JR East will develop and create travel products for foreign visitors to Japan in cooperation with Japan Airlines.

Continue reading »