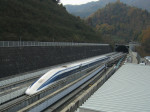 Japan tests 310mph bullet train
Japan's "floating" trains of the future, designed to travel at speeds of 311mph, have undergone their first test tracks.
Source: Telegraph – By Danielle Demetriou, Tokyo
1:08PM BST 04 Jun 2013
The new generation L0 Series trains, which employ the latest magnetic levitation technology instead of conventional wheels, will begin commercial services in 2027.

The first five cars of the new train, which has a distinct aerodynamic "nose" at the front, were displayed on a test track in Yamanashi Prefecture.
The carriages, which are propelled by magnetic forces, were pulled along the track by a special maintenance vehicle as part of preliminary trials, with wide-scale tests due to commence in September.
The new train, designed by Central Japan Railway Co (JR Tokai), will initially link central Tokyo with Nagoya station, cutting current bullet train journey times by more than half, from 90 to 40 minutes.
The final train will consist of 16 carriages carrying up to 1,000 passengers at a time, with plans under way to extend the line to Osaka by 2045. The plan is ultimately to create a high-speed mass transit maglev network across the country.
It was in 1964 that Japan was propelled to the forefront of transport technology after it unveiled its first bullet train – known as "shinkansen" – to coincide with its hosting of the Olympic Games.
Since then, Japan has become famous as home to the world's most sophisticated rail network system, with bullet trains travelling at speeds of up to 199mph across more than 1,400 miles of tracks. Continue reading »