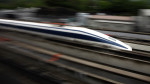 The World's Fastest Train Could Be Headed to Washington
Date: Nov 9, 2015
Source: Bloomberg by Chris Cooper, Kiyotaka Matsuda, Craig Trudell
The U.S. wants to study the feasibility of building a Japanese-designed magnetic-levitation train line between Washington and Baltimore as part of a plan to upgrade the transportation network in the world's largest economy.
The government, which on Saturday announced $27.8 million in funding for a maglev study, wants to build a stronger passenger rail system, U.S. Transportation Secretary Anthony Foxx said in an interview Monday in Tokyo.
"One of the things this study helps us do is to figure out what the true cost picture of maglev is," Foxx said. "To this point most of the estimates have been back-of-the-envelope, and there needs to be some rigor applied to that under our study models."
Northeast Maglev LLC says it would cost $10 billion to build a 500 kilometer (311 mile) per hour maglev line to whisk passengers on the 40-mile trip between Washington and Baltimore in 15 minutes. The world's fastest train broke its own record earlier this year with a run of 603 kilometers per hour.
"It's fascinating technology," said Foxx, who rode the maglev Sunday in Tsuru, Japan. "It's an example of great innovation happening here in Japan."
Government backing
Prime Minister Shinzo Abe has said the Japanese government may provide financing to support Central Japan Railway Co.'s bid to provide the technology for a U.S. line. That's part of wider government efforts to help Japanese trainmakers compete with Germany's Siemens AG, France's Alstom SA, Bombardier Inc. of Canada and China's CRRC Corp.
Japan's Chief Cabinet Secretary Yoshihide Suga met with Foxx on Monday and discussed building a maglev in the U.S. Suga said Japan wanted to help build what would be a symbol of cooperation between the two countries, according to a statement from the government.