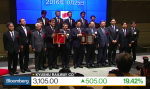 JR Kyushu Shares Surge in Tokyo Debut After $4 Billion IPO
Date: October 24, 2016
Source: bloomberg.com by Chris Cooper Kiyotaka Matsuda
Kyushu Railway Co. shares rose on their first day of trading in Tokyo after Japan's government raised 416 billion yen ($4 billion) selling its entire stake in an initial public offering.
The stock climbed 15 percent to 2,990 yen in Tokyo on Tuesday after touching 3,120 yen earlier. The government sold all 160 million shares held by Japan Railway Construction, Transport and Technology Agency for 2,600 yen apiece, or the top end of a marketed range. The shares will start trading in Fukuoka on Wednesday.
Three of the four major Tokyo IPOs this year are trading above offer price, according to Bloomberg-compiled data. Line Corp.'s $1.24 billion July IPO, which included a New York and Tokyo listing, is the best performer, trading more than 40 percent above its offer price of 3,300 yen a share. Komeda Holdings Co., the worst performer of this year's deals, is down about 15 percent.
The JR Kyushu share sale is the nation's largest rail IPO in more than a decade and is part of Prime Minister Shinzo Abe's efforts to encourage citizens to invest some of their 1,700 trillion-yen household savings in the stock market. The gains in the shares of the rail operator compare with the 32 percent surge in Line's stock on its July debut.
JR Kyushu, which operates in Japan's third-largest island, gets most of its profit from its station and real-estate businesses that include hotels and shopping centers as non-transportation services account for about half its sales.
"We've focused on non-rail assets and that's led to synergies," President Toshihiko Aoyagi told reporters after the listing ceremony in Tokyo. "We want to step that up in the future."