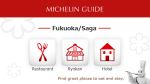 Michelin Guide Fukuoka now available online in English
Date: Sep 12, 2014
Source: AFP-Relaxnews
FUKUOKA, Sept 12 — Foodies worldwide can now browse the restaurants of the special-edition Michelin Guide to the Japanese city, which was published exclusively in the local language last July.
The French company's first guidebook on the restaurants of Fukuoka, located on the northern shore of the island of Kyushu, is now available in English through the multiple websites promoting the destination.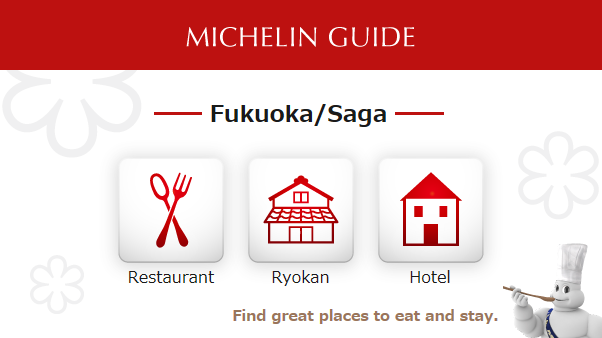 MICHELIN GUIDE Fukuoka Saga 2014
Fukuoka Hakata Tourist Information (yokanavi.com/eg), Fukuoka Convention & Visitors Bureau (www.welcome-fukuoka.or.jp/english) and Saga Prefectural Tourism Federation (www.saga-tripgenius.com) all provide free access to the English-language guide in a bid to attract international tourists.
The special-edition guide lists 489 restaurants. Two of them achieved a three-star rating, the highest honors in the Michelin guide: Gyoten, which specialises in sushi, and Sagano, which offers traditional Japanese cuisine.
Eleven restaurants and a ryokan (a traditional Japanese inn) earned two stars, and 43 restaurants are listed with one star. Finally, 74 restaurants entered the guide with a Bib Gourmand, Michelin's label for restaurants offering excellent value for money.
"This selection includes, among others, cuisines never before featured in a Japanese Michelin guide, such as Indian, gyoza, international or tofu-based," the company states. The Michelin Guide Fukuoka was previously available only in Japanese.