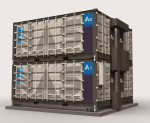 Schneider Electric and NGK Partner to Jointly Promote Best-in-Class Large Capacity Energy Storage System
Date: Nov 8, 2017
Source: NGK Insulators Ltd.
NAGOYA, Japan, November 8, 2017 – Schneider Electric, the leader in digital transformation of energy management and automation, along with NGK Insulators Ltd., the worldwide leader of manufacturing advanced ceramic products, announced on November 8 the conclusion of a memorandum of understanding (MOU). Under the MOU, the two companies will explore global opportunities to jointly market NGK's NAS battery and Schneider Electric's inverter (Conext* Core XC ES). *Conext is trademark of Schneider Electric.
With increasing demand and use of renewable energy, there is an increasing need for large capacity battery storage systems, which can stabilize the distribution of electricity, and global demand is expected to grow going forward.
In November, 2016, the team of NGK and Schneider Electric successfully conducted integration testing of the interface between the NAS battery and ES Box at NGK's factory in Komaki City, Aichi Prefecture, central Japan.
The integration of Schneider's outstanding energy management technology and NGK's advanced battery storage technology makes it possible to store large amounts of electricity with a smaller footprint. This offer is unique in the battery storage market and as a source of renewable energy, and it contributes to reduction in CO2 emissions.
The Conext Core XC ES is a series of central inverters designed for high efficiency and flexibility for battery-based energy storage systems. The series has peak efficiency of 99.1% and its flexibility allows the inverter to be configured with voltage and power output up to 680 kW.
NGK was the first in the world to commercialize the NAS battery system, which has the capacity to store megawatts of electricity. The NAS battery system boasts an array of superior features, including large capacity, high energy density and long life. It is capable of maintaining a high output of electric power for long periods of time.
Since 2002, NGK has delivered NAS battery systems with total output of more than 530,000 kW and storage capacity of 3.7 million kWh at about 200 locations worldwide. The systems are being used for load leveling and emergency power supply as well as to stabilizing and smoothing power output from renewable energy sources. NGK continues to support the growth of renewable energy, cutting energy costs and reducing the burden on the environment by supplying large-capacity NAS battery systems.
About Schneider Electric
Schneider Electric is leading the Digital Transformation of Energy Management and Automation in Homes, Buildings, Data Centers, Infrastructure and Industries. With global presence in over 100 countries, Schneider is the undisputable leader in Power Management – Medium Voltage, Low Voltage and Secure Power, and in Automation Systems. We provide integrated efficiency solutions, combining energy, automation and software.
In our global Ecosystem, we collaborate with the largest Partner, Integrator and Developer Community on our Open Platform to deliver real-time control and operational efficiency. We believe that great people and partners make Schneider a great company and that our commitment to Innovation, Diversity and Sustainability ensures that Life Is On everywhere, for everyone and at every moment. http://www.schneider-electric.com