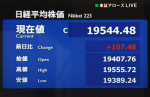 Nikkei hits fresh 15-year high as wage hikes stoke Japan optimism
Date: Mar 18, 2015
Source: Kyodo News
TOKYO (Kyodo) — The Nikkei index rose to a fresh 15-year high Wednesday as wage hikes at large firms fueled optimism about the Japanese economy, while investors also waited for a U.S. Federal Reserve policy meeting for clues as to when the Fed will raise interest rates.
The 225-issue Nikkei Stock Average ended up 107.48 points, or 0.55 percent, from Tuesday at 19,544.48, the highest close since April 2000. The broader Topix index of all First Section issues on the Tokyo Stock Exchange finished 11.96 points, or 0.76 percent, higher at 1,582.46.
The indexes advanced as the prospect of higher wages in Japan continued to lift sentiment. Many of the country's largest manufacturers including Toyota Motor Corp. and Nissan Motor Co. announced record pay raises after annual labor talks, as hoped by the government as well as the Bank of Japan.
"The willingness of companies to raise wages speaks to their profitability. That's been driving stocks higher," said Takashi Hiroki, chief strategist at Monex Inc.
Nintendo and mobile game firm DeNA jumped by their daily price limits after the two companies announced Tuesday a capital and business tie-up that could bring franchises including Super Mario and Pokemon to smartphone games.
The market slipped into negative territory in the morning as some investors locked in gains ahead of the conclusion of the Federal Open Market Committee's two-day meeting later in the day, closely watched for hints at the timing of the United States' first interest rate hike in nearly a decade.
Many analysts expect the FOMC to remove the pledge in its statement to be "patient" in deciding to raise its key short-term rate from near zero. But at the same time, recent lackluster economic data may lead Fed Chair Janet Yellen to downplay the possibility of an early rate hike at a press conference.
The market resumed its bull run in the afternoon, taking the Nikkei past 19,500. Some analysts warned of an overheating market.
"There haven't been any real corrections lately and a step too far may trigger a big one," said Tsutomu Yamada, a market analyst at kabu.com Securities Co.
But Yamada also said, "It seems the market is willing to ignore (the need for some adjustment) until the new fiscal year begins" next month.
Advancing issues outnumbered declining ones 1,030 to 683 on the First Section, while 155 ended unchanged. Major gainers included electric appliance, service and bank issues.
Nintendo surged 3,000 yen, or 21.3 percent, to 17,080 yen and DeNA shot up 300 yen, or 21.3 percent, to 1,707 yen after going most of the day untraded amid a flood of buy orders.
Meanwhile, major Nintendo shareholder Bank of Kyoto jumped 180 yen, or 14.5 percent, to 1,421 yen.
Bucking the trend, energy-related shares were down as U.S. crude oil futures fell overnight to a six-year low. Oil explorer Inpex fell 39.50 yen, or 2.9 percent, to 1,320.00 yen and distributor Idemitsu Kosan slipped 4 yen, or 0.2 percent, to 2,085 yen.
Trading volume on the main section rose to 2,04