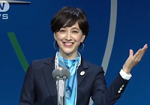 Omotenashi – The Heart of Japanese Hospitality
By Muneyuki Joraku
I think it's about creating a non-dominant relationship between a person who's offering the service and a person who is receiving it. It could be the CEO of a big company, a famous star or an ordinary housewife, but there's only one simple relationship between host and guest. An example of the best Omotenashi is when the host anticipates the needs of the guest in advance and offers a pleasant service that guests don't expect. They should not wait for instructions from their guests, as guests who make their requests directly are considered unsophisticated in Japan.

But why is Omotenashi important? I think it's because good service attracts good customers. There's a 8:2 marketing theory, which means that 80% of the sales is produced by the 20% of the customers. So, the quality of the service leads to the satisfaction of the customer, and their frequency of visits decides future of the company. This satisfaction is the result of quality Omotenashi.As such, it cannot be written in a manual and there's no particular technique, because it is based on a one-to-one relationship and it differs in every situation. Therefore, it is hard to cultivate this concept outside of Japan.
My mission as a marketing person in a Japanese hotel group is to blend Japanese Omotenashi with existing hotel service to accomplish a greater experience for our guests.
---
Omotenashi A Very Japanese Hospitality
John Ashburne meets the experts whose lives revolve around the concept of delivering the ultimate in customer satisfaction, and asks, What is Omotenashi?
By Japan Close-Up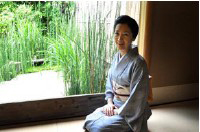 Any foreigner who has lived in Japan for an extended period of time will have been asked this question: "What's your favorite Japanese word?" In my own case I have often answered the enquiry with omotenashi and, without exception, my reply has garnered instant murmurs of approval. The tacit implication is that I have "understood." But what, exactly, is it?
Omotenashi is a singularly difficult word to define, let alone translate. It is very close to the Western phrase 'Hospitality', yet it is palpably something else, one of those semi-mystical Japanese keywords that seem to tap into the very heart of the Japanese cultural DNA, yet remain somehow beyond literal explanation. One of my personal favorite attempts to decipher its meaning, comes from an unlikely source, the PR department of a major Japanese cosmetics corporation:
"Omotenashi is a word you have to translate with your heart" says their copy, "It is a subtle connection in which trust, pleasure and respect are interwoven in an approach steeped in a natural sense of deference; an exquisite approach to the art of receiving guests." Not a bad stab at it, methinks.
---
The Omotenashi way
The unique Japanese mindset of service and hospitality is the way to more loyal relationships between customers and sellers – also in Western cultures.
By Vanessa Zainzinger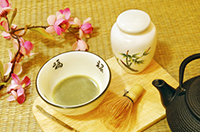 Travellers coming from Japan often tell tales of the amazing hospitality they have experienced in the country's hotels and restaurants. The Japanese spirit of service is called Omotenashi. Omotenashi is a mindset that makes the relationship between customer and seller a long-lasting, non-dominant one. It embodies a service that anticipates the needs of a guest in advance and offers additional treats and gifts the guest doesn't expect.
Since it opened its doors in 2000, Rakuten University has been seeking to teach non-Japanese merchants to deliver Omotenashi. While Rakuten has established itself as the world's third largest online marketplace with revenues over seven billion pounds, the University is successfully bringing Omotenashi to the e-commerce space. The model works by ensuring that technology is always supported by human contact and interaction.
For those of you who don't have time to go on a course, Rakuten University shared some advice from its programme for online retailers with us.
---
Omotenashi(Spirit of Hospitality) of 22,000 people
High-quality counseling as beauty professionals
By Strong Points of Shiseido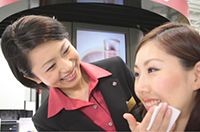 The Shiseido Beauty Consultants (BC) treat customers in stores every day with the "Omotenashi" spirit, which is not just about making customers look beautiful, but involves providing consideration and imagination as beauty professionals. Their high-quality counseling is one of Shiseido's strengths. Its code of conduct, the "Shiseido BC Omotenashi Credo," has been translated into 26 languages and distributed to Beauty Consultants all over the world. The results of questionnaires on customer service satisfaction for customers in Japan are incorporated in assessments of beauty consultant activities. The customer questionnaires are conducted in other countries every six months, and are used to improve customer service in stores.
Shiseido held the 3rd Global Beauty Consultant Contest on Wednesday, July 25, 2012
Shiseido held the 3rd Global Beauty Consultant Contest on Wednesday, July 25, 2012, where BCs (beauty consultants) active in 89 countries and regions throughout the world, including Japan, gathered to compete for the recognition of their beauty techniques and Omotenashi spirits that they work to improve on a daily basis.
The Global Beauty Consultant Contest has been held every four years since 2004, and the 2012 Contest, the 3rd of its series, was participated by about 20,300 BCs from all over the world.
The training was started in respective countries and regions. After 18 months' repeated training and qualifiers, 32 finalists (16 BCs from Japan and 16 from overseas) demonstrated the results of their hard effort and competed with each other at the venue of the Global Contest, the final stage.
---
Omotenashi, Japanese Hospitality

Tokyo Olympic 2020 Presentation: Christel Takigawa – Tokyo 2020 BID Ambassador

Lexus: "Omotenashi"

More Omotenashi
Japan: Fascinating Diversity (Omotenashi: Japanese Way of Hospitality)