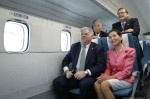 Larry Hogan just asked for $28M to develop a maglev train line between Baltimore and D.C.
Date: June 4, 2015
Source: Baltimore Business Journal by Rick Seltzer
Gov. Larry Hogan isn't just riding a magnetic levitation train in Japan during his trade trip to Asia. His administration is boosting a private effort to build such a super-fast train at home between Baltimore and Washington, D.C.
Maryland has applied for $27.8 million in federal funding toward a proposed maglev project that could connect Maryland and D.C. with trip times as low as 15 minutes, the Hogan administration said Thursday. Hogan also agreed to a memorandum of cooperation with Japanese Prime Minister Shinzo Abe that will have the state and the Japanese government working together in several areas including maglev high-speed rail.
The moves come after Hogan rode the 27-mile Yamanashi maglev line outside of Tokyo during a 12-day trade trip that's scheduled to end Saturday. Members of private efforts to build a maglev rail line between Baltimore and Washington are on that trip as well, including Baltimore Washington Rapid Rail LLC Chairman Wayne L. Rogers.
Baltimore Washington Rapid Rail LLC has been actively working for months to lay the groundwork for a high-speed maglev rail line — a train suspended off the ground by magnets that could reach speeds of well over 300 miles per hour. In September the group applied to the Maryland Public Service Commission for a passenger railroad franchise. The idea is to ultimately link D.C. to Boston as part of multi-city rail service that could travel between New York City and D.C. in as little as an hour.