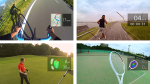 Sony Announces the Development of a Compact, Lightweight Single-Lens Display Module with OLED Technology That Enables Superior Image Quality
Date: Dec 17, 2014
Source: Sony Corporation
– When attached, turns eyewear into a smart device capable of displaying visual information –
With this module, Sony has achieved a compactness of size and a lightness of weight that make it possible to attach the module to a piece of eyewear. It accomplished this by equipping the device with a High-Resolution Color OLED Microdisplay, a Micro-Optical Unit that brings out the full potential of the display's high image quality, and a miniaturized control board with arithmetic processing capabilities on par with smartphones that was made possible by high-density packaging technology.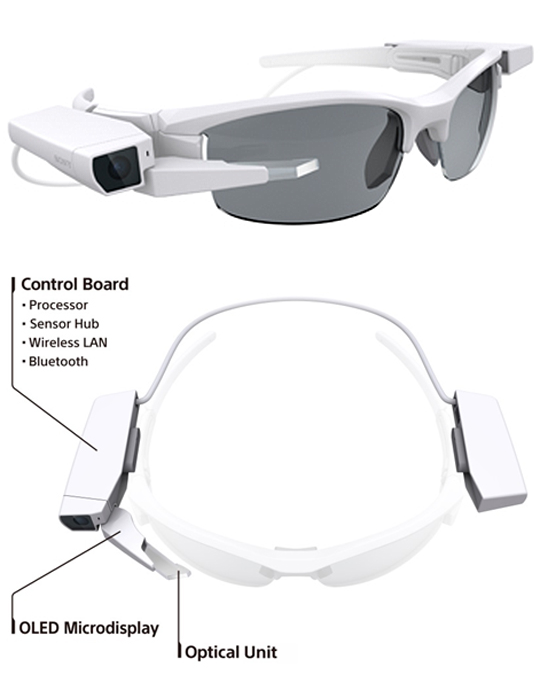 Single-Lens Display Module (experimental)
Left side of image: Display arm
Right side of image: Secondary arm incorporating the battery, etc.
This display module possesses the potential to enrich users' lives in a variety of ways. By simply attaching it to a pair of fashionable glasses, goggles, sunglasses, or other type of eyewear, you can instantly gain access to visual information that adds a level of convenience to your everyday life. The module also has potential applications in sports or for work, among other areas, displaying helpful information that supports you in the activity you are engaged in. And this is all done in a small sub-window that does not obstruct your field of vision. Because the module is easily attachable/detachable, you can use it only when you want to, and you have the option to store it away if it does not suit the occasion. Sony's new module presents the opportunity to begin incorporating glasses-style smart devices into your life in a comfortable, easy way.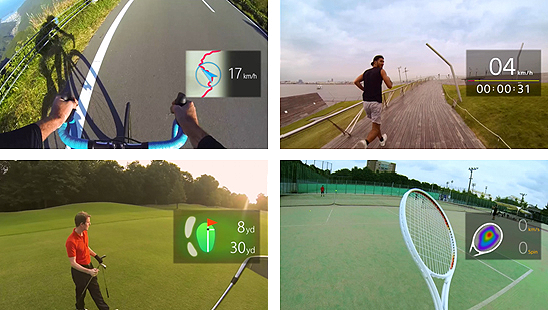 Vision for the module's application in sports
Sony is aiming to start mass production of this display module within the coming year. It is looking to provide the product to a wide variety of potential customers, from eyewear makers whose pieces are tailored for specific uses such as sports or entertainment, to electronics manufacturers who are considering pairing their products with wearable devices, to companies that provide business solutions utilizing wearable devices. By making the product available to such a wide range of outlets, Sony will promote the adoption of wearable devices in new areas, thereby contributing to the further development of the market. Sony will also provide software development kits (SDK) to partnering organizations for this Single-Lens Display Module boasting rich arithmetic processing capabilities, thereby embarking on a new commercial solutions business that will broaden the world of wearable devices.