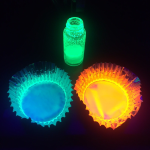 Green Science Alliance Co., Ltd. Starts to Supply Quantum Dots Encapsulated Silicon Resin for Micro LED and Inorganic Coated Quantum Dots
Date: Jun 06, 2018
Source: Green Science Alliance Co., Ltd.
KAWANISHI, Japan, June 6, 2018 – Quantum dots are extremely small fluorescent nanoparticles which is composed of between 10 to 10000 atoms and 1 to 9 nanometers in diameter. They are so small that one cannot see them with a typical microscope. Despite its size, we cannot ignore the effects resulting from this extremely small size of these nanoparticles. The electronic characteristics of quantum dots are determined by their chemical composition, size, and shape.
Continue reading »