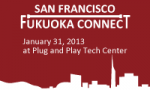 Silicon Valley Fukuoka Connect is a networking event designed to build connections among professionals in Silicon Valley and introduce exciting businesses and technologies from Fukuoka, Japan.
Speaker: Sean Nishikawa, CEO, Trial Retail Engineering Inc.
Sean will discuss an Android-based mobile solution for retail store employees that enables better labor efficiency and better communication. He will also discuss big data from a retail perspective, focusing on computing and analytics as enabled by SMART technology.

Continue reading »