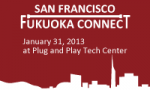 Silicon Valley Fukuoka Connect is a networking event designed to build connections among professionals in Silicon Valley and introduce exciting businesses and technologies from Fukuoka, Japan.
Speaker: Sean Nishikawa, CEO, Trial Retail Engineering Inc.
Sean will discuss an Android-based mobile solution for retail store employees that enables better labor efficiency and better communication. He will also discuss big data from a retail perspective, focusing on computing and analytics as enabled by SMART technology.

Following the talk, we will have a free sake and shochu tasting sponsored by the Nishiyoshida and Kitaya distilleries from Fukuoka, soft drinks sponsored by ITO EN, and some light refreshments.
Organizer: Fukuoka Center for Overseas Commerce in America (FCOCA)
Fukuoka Center for Overseas Commerce in America (FCOCA) provides free expansion and relocation assistance and partner matching services to companies throughout North America interested in taking advantage of the market opportunities in Western Japan. FCOCA is a division of the Government of Fukuoka Prefecture, Japan, and their services are completely FREE.
Date and Venue:
January 31, 6:30PM-8:30PM
Plug and Play Tech Center in Sunnyvale
More deteils click here
---
Please check the Fukuoka prefecture's products