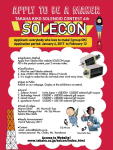 The 4th Solecon (Solenoid Contest): 1/4 – 2/12, 2017
Takaha Kiko Co., Ltd. – We are pleased to announce the Solenoid Contest(Solecon) will be held on 2017 again. The 4th Solecon entry begins on January 4th, 2017 and ends on February 12th, 2017. Please submit your innovative ideas with using Takaha Kikou's solenoid for a chance to win great prizes!
The Grand Prize Winners will get $500, flight ticket to Japan (We invite you to come see our new office space and meet our staff!), and solenoid gift certificate($500). The other prize is also great!!
Continue reading »