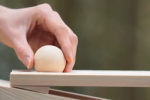 Anatomy Of A Cannes Winner: NTT DoCoMo Xylophone
Anatomy of a winner takes us through the key decisions that took a piece of work from good to great–and won the campaign for NTT DoCoMo Touch Wood SH-08C a Golden Lion at Cannes. Here, creative director Morihiro Harano breaks down his process.
Source: Teressa Iezzi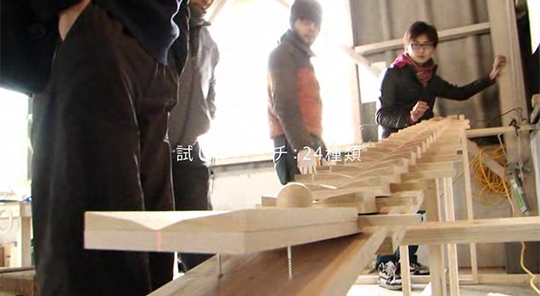 It was one of those passed-along web films that cut through the irony and the cats and stopped people in their tracks. The video depicted a wooden xylophone built and deployed in the middle of a sun-dappled forest. A ball was released at the top, and as it rolled down the sloping instrument and dropped onto each wooden "key," it played an all-natural performance of Bach's Cantata 147.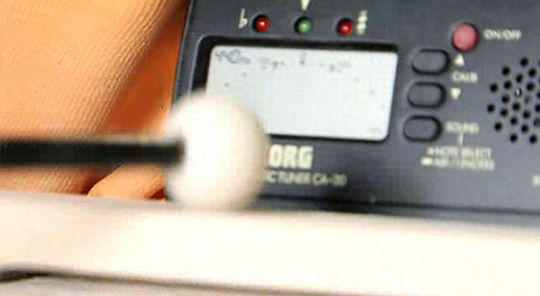 No tricks. No computer generated images. Just the light hand of Japanese craftsmen and perhaps an added poignance lent by the timing of the release of the video–completed and launched as the tsunami hit Japan. (Note the sound of rushing water in the background.)
The video was created for Japanese telecom NTT DoCoMo's new Touch Wood SH-08C phone, a kidney-shaped device encased in wood harvested from Japan's forests.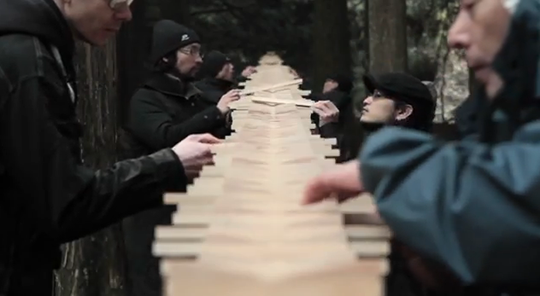 Morihiro Harano, creative director on the project (now at NY/Tokyo agency Party) takes us through the steps that made the spot a success.
For more details, click here.


---
XYLOPHONE – 森の木琴

Making of the Touch Wood commercial – 森の木琴

Awards:
One Show 2012 One Show Consumer Television / Over 60 second – Single Merit
One Show 2012 One Show Non-broadcast / Online Merit
One Show 2012 One Show Interactive Online Films & Video / Short Form – Single Merit
Ted 2012 TV commercial Entry
Cannes Lions 2011 Film Lions Commercial Public Services Silver
Cannes Lions 2011 Film Craft Lions Sound Design Gold
Spikes Asia 2011 Film Other Film Content Bronze
Spikes Asia 2011 Film Craft Craft: TV Gold
Spikes Asia 2011 Digital Digital Tools Gold
Credits & Description:
Type of Entry: Product & Service
Category: Commercial Public Services
Title: XYLOPHONE
Advertiser/Client: NTT DOCOMO
Product/Service: MOBILE PHONE
Entrant Company: DRILL Tokyo, JAPAN
Advertising Agency: DRILL Tokyo, JAPAN
2nd Advertising Agency: DENTSU Tokyo, JAPAN
Creative Director: Morihiro Harano
Art Director: Jun Nishida
Copywriter: Noriko Yamada
Agency Producer: Daijiro Sawa/Ayako Yoshinoya
Advertiser's Supervisor: Masato Kabasawa
Account Manager: Ayako Yoshinoya
Account Supervisor: Toru Murakami
Production Company: ENGINE PLUS Tokyo, JAPAN
2nd Production Company: DRAWING AND MANUAL Tokyo, JAPAN
Director: Seiichi Hishikawa
Producer: Toshifumi Oiso/Hideyuki Chihara
Editor: Hitoshi Kimura
Sound Design/Arrangement: Kenjiro Matsuo
Post Production: Digital Garden
Brief Explanation:
The advertisement for the mobile phone, TOUCH WOOD SH-08C, which was developed aiming to stimulate and enhance social awareness of forestry preservation.
The advert shows a ball running down a wooden track which in turn plays music in a style of a Xylophone.
The xylophone in total length of 44 m (144.4 ft) was made only by using forest-thinning materials just like the product itself.
The sales of forest-thinning materials will become the funding source
for the forestry preservation.

The TV Commercial Ad titled XYLOPHONE was done by Drill Tokyo advertising agency for product: Mobile Phones (brand: NTT DoCoMo) in Japan. It was released in the Jun 2011.