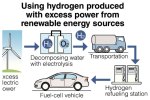 Surplus green energy eyed for fuel-cell cars
Date: Oct 06, 2014
Source: The Japan News
The Yomiuri Shimbun – The Environment Ministry will begin a model project in which surplus electricity generated from renewable energy sources, such as wind and solar power, will be utilized to produce hydrogen for fuel-cell vehicles.
The ministry aims to maximize the use of green energy, including any surplus power, and spread the use of fuel-cell vehicles.
To that end, a plan for hydrogen fueling stations will get a boost.
In its initial budget request for fiscal 2015, the ministry plans to earmark ¥3 billion for project-related costs.
A growing number of companies in the solar and wind power generation industries have established their business bases in Hokkaido, whose wide, open spaces are well suited to the setup of solar panels and wind turbines, according to the ministry.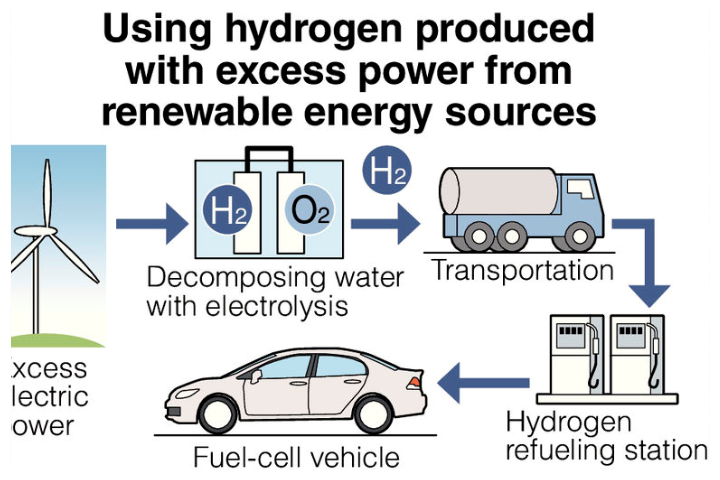 Given this, a surplus of electricity is expected to be generated there.
Though it is possible to transmit surplus power to the Honshu region, the transmission capacities of undersea electricity cables between Hokkaido and Honshu are limited.
Thus the ministry said there is a fear that renewable energy sources in Hokkaido may not be fully utilized.
To make better use of green energy from Hokkaido and other areas suited for wind or solar power generation, the ministry plans to produce hydrogen using any surplus electricity.
The hydrogen fuel will be transported to the Kanto region, where a large amount of electricity is consumed.
The plan also offers the benefit of utilizing power from renewable energy sources, which would result in lower carbon dioxide emissions than methods of producing hydrogen from fossil fuels.
Starting next fiscal year, the ministry will begin projects in several locations. Facilities where water can be decomposed using electrolysis to create hydrogen, using surplus electricity and tanks to store hydrogen, will be established.