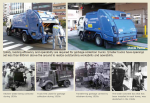 Solid Waste Management and Recycling Technology of Japan
Source: Ministry of the Environment
Introduction
With the aim of preserving the environment in rapidly developing nations, we will introduce Japanese waste management and recycling technologies, which effectively turn waste into resources or appropriately dispose of it.
Due to economic development, industrialization and increasing population, problems related to the expanded consumption and depletion of resources, and the increased output of wide-ranging types of waste are becoming more serious than ever.
There is a word in Japan: Mottainai. It encompasses the practice of treasuring and using all things as long as possible. While economies continue to grow, this spirit of Mottainai restrained the generation of waste and motivated the development of technology for reuse, recycling and effective use through heat recovery.
As Japan's landmass is limited and finding landfill disposal sites is difficult, we have developed a system to collect and transport waste, process it through intermediary treatment by incineration and other methods, and then dispose it in landfills in a sanitary manner, in order to prevent environmental pollution in the areas surrounding densely populated cities.
This report introduces some of leading Japanese waste disposal and recycling technologies.
We hope to create a material-recycle society that generates as little waste as possible and recycles and reuses wastes as resources, and hope that the most advanced technologies and systems based on our experience and achievement may assist to preserve the environment and recycle resources on a global level.
---
Solid Waste Management and Recycling Technology of Japan
– Toward a Sustainable Society –
Index:
Collection and Transport
Technology for efficient waste transport

The expansion of urban areas widens the garbage collection zone. It is possible to improve the efficiency of collection and transport operations in cities with widening collection zones by setting up waste transfer stations where wastes can be transferred from small- or medium-sized garbage trucks to larger … Continue reading »

Municipal waste incineration technology
Safe and sound municipal waste incineration and high-efficiency power generation

From about 1960, Japan began disposing urban garbage by incineration, and today, Japan possesses the world's leading garbage incineration facilities. In the fiscal year 2009, there were 1243 incineration facilities in Japan, incinerating garbage using several methods – stoker furnaces, fluidized bed furnaces … Continue reading »

Medical waste disposal technology
Sanitary disposal technology with high-environment preservation capability

Some waste generated from medical institutes may be contagious. In the past, Japan has experience cases of medical accidents in which medical staff were infected by hepatitis B with needles used on hepatitis patients which eventually caused death. Such … Continue reading »

PET bottle recycling technology
Technology to produce high-grade recycled PET resin and recycle products

Under the 3R policy (Reduce, Reuse, Recycle), Japan has been collecting PET bottles, food trays, and cans separately for reuse as recycle resources in the manufacturing of new products. PET bottles are collected in accordance with the Act on the Promotion of Sorted Collection and Recycling … Continue reading »

Home appliance recycling technology
Technology for high quality recycling that is ecologically safe

In developing countries, small companies recover precious metal from appliance waste manually, which is a health hazard for workers and contributes to environmental pollution. Home appliances contain both hazardous substances and useful resources, such as rare metals. Treatment through … Continue reading »

Biomass utilization technology
Technology to efficiently recover electricity and fuel from biomass waste
Waste landfill technology
Landfill disposal technology that enables the stabilization of waste in a short time
Reference
Legal System for Establishing a "Sound Material-Cycle Society"