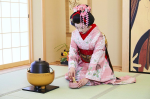 The World's First Geisha Cafe Opens in Osaka, Japan
Date: Aug 22, 2017
Source: Maikoya Osaka
OSAKA, Japan, Aug. 22, 2017 — Maikoya Osaka, a high-end Japanese cultural experience venue, recently introduced the world's first geisha themed cafe and restaurant in Osaka. Here, visitors can meet and chat with an apprentice geisha, any time of the year. The building was constructed on a property where an actual geisha house stood until the mid-1980s. Located in Shinmachi, Maikoya Osaka is at the center of an area that served as an entertainment hub and had many geisha houses during the Edo period.
Maikoya Osaka has many offerings. There is a cafe with specialty products such as golden ice cream and an elegant gold flake covered Kobe beef sandwich that costs $300. These dishes are served by a geisha whom visitors can chat and take pictures with. There's a live koto or shamisen performance at certain times of the day. Visitors also have the chance to make reservations to participate in a tea ceremony led by an English speaking geisha.

Geisha tea ceremony at Maikoya Osaka
For many who travel to Japan, one of the most elusive dreams is meeting an actual geisha; modern day geishas usually have closed networks and only a few extremely lucky or very well-connected people have the opportunity of glimpsing this mysterious world. Maikoya Osaka aims to open the exclusive world of the geisha to people of all walks, and teach visitors not only about geisha but also about the traditional Japanese arts and crafts that geishas excel at. These include the tea ceremony, Japanese dance, calligraphy, and Japanese cooking classes.
Miho Hirata, who manages Maiko Cafe says, "The literal definition of geisha is 'art performer' (gei: art, sha: performer). A geisha must be good at traditional Japanese arts and crafts such as the tea ceremony, putting on a kimono, playing the shamisen, doing flower arrangement, and performing buyoo (traditional Japanese dance). We want to teach the world that geishas are artisans not courtesans. "
The question everybody asks is if the Geisha Cafe is real. Are these actual geishas, or just girls wearing geisha make up? Hirata says it is difficult to answer but these people have other jobs or they are studying at a univeristy. They dress up like a geisha. At the same time Hirata notes that, "Everyone thinks geisha only exists in Kyoto; however, they historically practiced in more than 10 towns, with each town having a different code of behavior. We are based in Osaka, and we make sure that the staff members are familiar with the geisha culture in Osaka. This includes knowledge of Japanese arts, knowledge of the history and traditions of geisha, use of sonkeigo, ability to wear feminine attire correctly, and an awareness of iki, which means that conversation should always be respectful, discreet, elegant and intelligent.
To interact with actual geisha as they practice their crafts, Maikoya Osaka is the best place to visit. Our building not only has Maiko Cafe and an amazing tea ceremony room perfectly suited for the most sophisticated geisha culture, it also serves as an upscale cultural activity center with many other things to do.
Click here for more on Geisha Cafe and Maikoya Osaka luxury cultural activities.