State/Prefecture:

Osaka Prefecture

City/Town/Village:

Osaka

Street:

2-5 Honmachibashi, Chuo-ku,

Country:

Japan

Zip/Postal Code:

540-0029

Phone:

+81-6-4792-8966

Listed:

02/08/2017 1:23 pm

Expires:

This ad has expired
Our Hands and Foot Bath Machine
We developed the structure of warm bath machine to be easy in disassemble, washing, reassembling it by ourselves originally, with the know-how of the piping of the food plant. Then we can keep hot water clean. And the thermoregulation is easy also.
It is the warm bath method to warm three points at the same time of a hand, a foot, the stomach. It is same situation to warm the blood by hot water-bath.
A peripheral artery is warmed up and temperature is risen and promotes a large quantity of sweat. It will do detox (discharge of the toxin) to sweat.
In the warm bath machine, hot water is always circulated, provided very clean hot water go through the filter.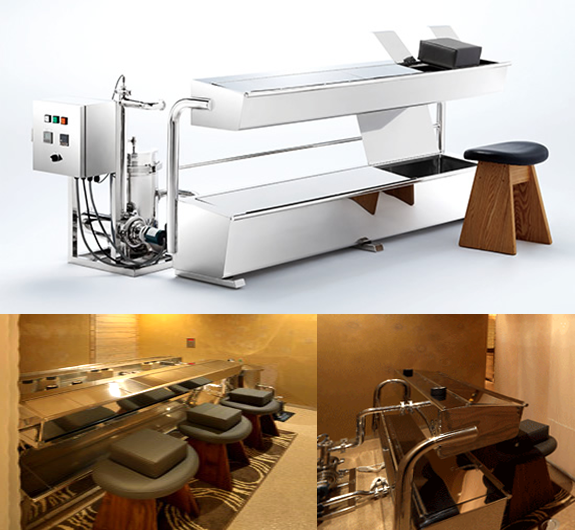 It's most important to warm your body to improve blood circulation.
Warming the peripheral artery of hands and feet and raise the temperature effectively. It makes bloodstream better and promote the activation of the cell. Warming the body from a core, and blood vessel opens. When blood vessel opens, bloodstream improves. Then a lot of oxygen is sent.
The blood circulation improves, and the cell of the whole body is activated, and natural healing power is improved. It is said that the immunity becomes higher. This is so simple, but we think in this way that it is to be the most important for a body to make the blood circulation better.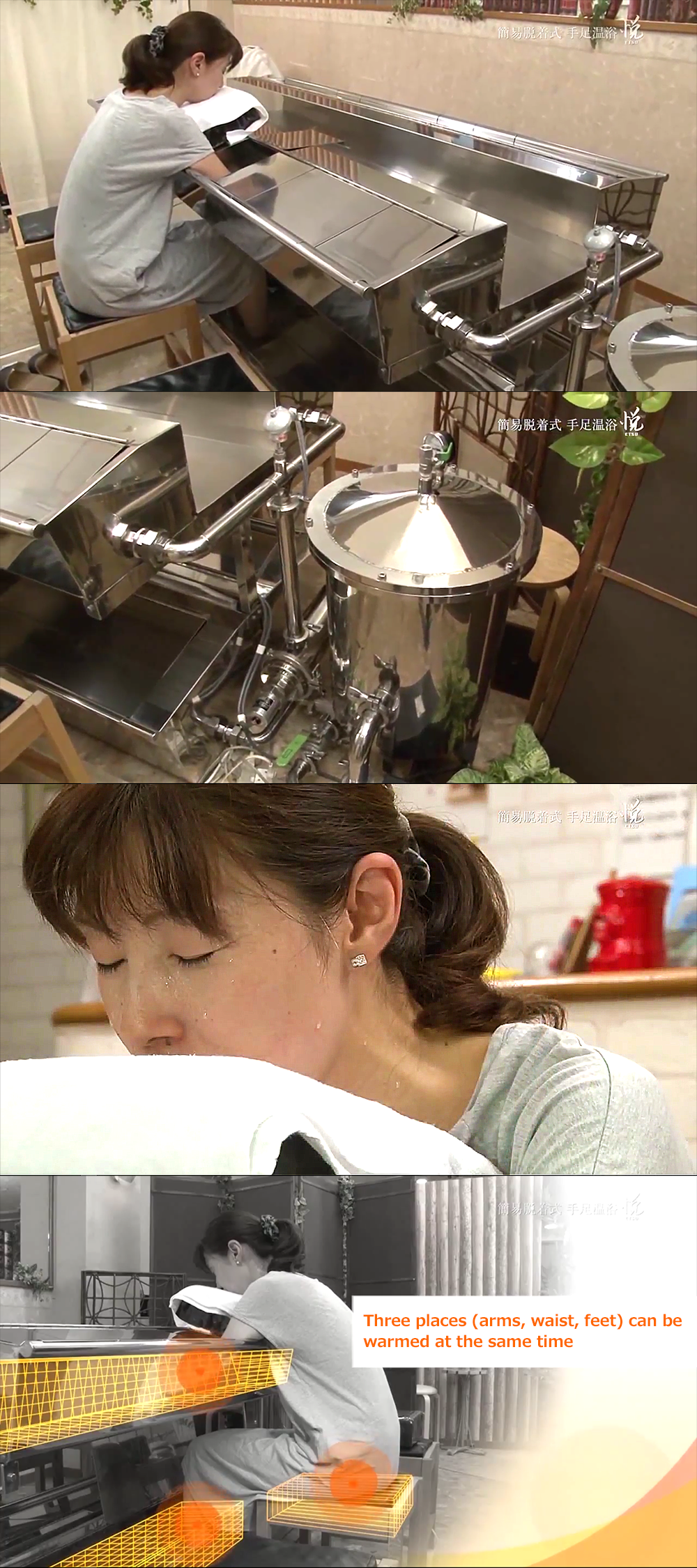 Feature
All parts are covered stainless steel:
An original product of the Kansai Koji with high level welding, processing technique of the stainless steel which applied to the plant of medicine manufacture and the drink maker.
Simple design and easy maintenance:
In the general warm bath machine, the structure is hard to clean the inner piping and difficult to keep hot water clean. We have knowledge the know-how of the piping in our main piping business. Our Hands and Feet Bath Machine to be easy in disassemble, washing, assembling it. The machine can keep hot water clean, and the thermoregulation is easy also.
Reliable filtration system:
Adsorption by the zeta electric potential and double catch system Zeta Plus (an adsorption depth filter cartridge in food, drink use) with the mechanical filtration action is adopted.
Construction work is unnecessary, and easy install:
By using a pump, if there is a plumbing / drainage facility near the main body, it can be installed easily. [200 V power supply required]
To use organic germanium:
Used organic germanium (100% purity powdery drinking) for hot water to get best feeling of warmth and quantity of sweat effectively.
About Specification, please click here.
Portable heating blanket and pad
We developed a portable heating blanket and pad that can be used at home and office. The opportunity that made this product was bedrock bath of the Tamakawa, Akita hot spring which was famous in an organic germanium warm bath and spa in Japan.


Our portable heating blanket "Etsu" and pad "mini-Etsu" can be used in various situations.
Ad Reference ID: 908589b898dbcf50