Listed:

04/24/2014 11:11 pm

Expires:

This ad has expired Hitachi to Deliver the World's Fastest*1 Ultra-High-Speed Elevators With a Speed of 1,200 m/min for a Mixed-Use Skyscraper in Guangzhou, China in 2016
Date: April 21, 2014
Source: Hitachi, Ltd.
Tokyo, Japan and Guangzhou, China, April 21, 2014 — Hitachi, Ltd. ("Hitachi" / TSE: 6501) and Hitachi Elevator (China) Co., Ltd. ("HELC") today announced that they will deliver the world's fastest ultra-high-speed elevators with a speed of 1,200 m/min (72 km/h) to the Guangzhou CTF Finance Centre (530 meters tall), a mixed-use skyscraper currently under construction in Guangzhou, China, for the full opening of the building in 2016. The elevator will feature technologies that support safe and comfortable elevator operation, in addition to the drive and control technologies needed to attain the world's fastest speed. Through these technologies, Hitachi will ensure that the elevator will provide passengers with a comfortable ride even when operated at high speeds.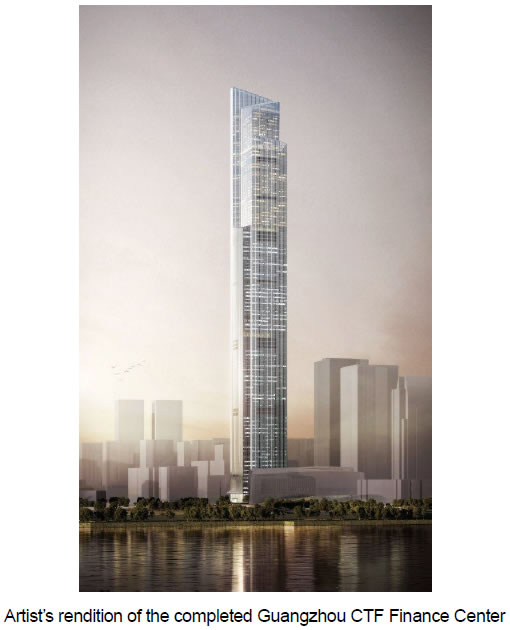 Hitachi has taken the lead in developing elevator products that satisfy the demands of increasingly taller and larger buildings over the years. Notably, in 1968, Hitachi developed Japan's fastest elevator at the time, with a speed of 300 m/min. The elevator was installed in the Kasumigaseki Building, Japan's first skyscraper building. In 2010, Hitachi started operating the 213-meter tall G1TOWER, the world's tallest*2 elevator research tower. Here, Hitachi has been conducting many different field trials needed to support growing global demand for high-speed, large-capacity elevators, along with pursuing technology development for elevator products that satisfy safety, comfort and environmental considerations.
The 1,200 m/min ultra-high-speed elevator that Hitachi will deliver will feature both the drive power needed to attain the world's fastest speed, and also reliable control capabilities. The elevator will travel a shaft height of 440 meters from the 1st to 95th floor in approximately 43 seconds. Furthermore, Hitachi will achieve both high-speed elevator operation and a safe, comfortable ride by using braking equipment and a governor*3 that safely bring the elevator to a stop, as well as technologies to prevent lateral vibration and to reduce the sensation of ear blockage caused by air pressure differences. Hitachi will install a total of 95 elevators at Guangzhou CTF Finance Centre, consisting of two of the world's fastest elevators announced today with a speed of 1,200 m/min; 28 double-deck elevators; ultra-high-speed elevators with a speed of 600 meters per minute; and other elevators.
Looking ahead, Hitachi will continue working to develop elevators offering various forms of added value, in order to support the construction of taller and larger buildings, for which demand is expected to further increase, mainly in overseas markets. Moreover, Hitachi will utilize the new technologies and insights obtained through these development activities for ultra-high-speed and high-speed elevators and other products, in order to provide safe, comfortable and convenient building environments on a global basis.
Hitachi is strengthening the global rollout of the Social Innovation Business. It will continue to expand the elevator business, which represents an essential vertical transport infrastructure for urban centers.
Ad Reference ID: N/A