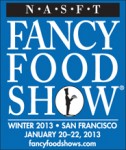 Winter Fancy Food Show 2013
Date: Sunday, January 20 – Tuesday, January 22, 2013
Venue:Moscone Center, San Francisco
It's a great honor for the Japan External Trade Organization (JETRO) to participate in the Winter Fancy Food Show 2013 presenting high quality Japanese food products. They are exhibiting a wide variety of excellent foods such as Japanese sake, tea, noodles, seasonings and more. Some are seen throughout Japan, while others are local specialties that reflect the resources and traditions of their region.

The Japan Pavilion, located at booths #3131-3147 in the South Hall, provides the best opportunity for you to experience truly genuine Japanese food products that are delicious and nutritious. We hope that many people will enjoy encountering these new authentic Japanese products and find ways to introduce them to consumers.
Further information on the participating companies is listed below. Be sure to check them all out!
Cooking Demonstration
JETRO will also be holding cooking demonstrations in our Pavilion to demonstrate the multitude of ways that these products can be used. All recipes will be created and prepared by Hitoshi Sugiura, a chef with experience in both Japanese and Western cuisines.
Dates & Times: January 20th, 21st and 22nd at 11:00AM, 12:00PM and 1:00PM
Having a father who was a sushi chef, Hitoshi Sugiura grew up around the culinary world. After earning experiences in the Osaka and Tokyo area, he moved to the U.S. in 2009 and worked at the Sea Grill at Rockefeller Center. Upon returning to Japan, he keeps himself busy with restaurant management, product development as well as participating in many contests and winning numerous awards in Japan. Recent activities in the U.S. include developing menus for VIP in Hollywood Bowl and taking part in the catering at Emmy Award for 3,000 people.
---
Please check the food & beverage products