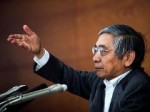 BOJ offers most upbeat view on regional Japan in 12 years
Date: July 10, 2017
Source: EconomicTimes
TOKYO: The Bank of Japan offered its most optimistic view of the country's regional economies in more than a decade on solid exports and private consumption, underscoring its conviction a steady recovery is gathering momentum.
But BOJ Governor Haruhiko Kuroda reiterated his resolve to maintain ultra-loose monetary policy until inflation is stably above its 2 per cent target, a sign the Japanese central bank will not join its US and European counterparts in dialling back stimulus any time soon.
"Japan's economy is expected to continue expanding moderately ahead," Kuroda told a quarterly meeting of the central bank's regional branch managers on Monday.
In a quarterly report on regional areas of Japan, the BOJ revised up its assessment for five of nine regions and maintained its upbeat view for the remaining four areas.