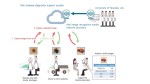 KYOCERA Begins Research in AI-based Image Recognition to Help Diagnose Skin Diseases and Cancers via Smartphone
Date: Aug 29, 2017
Source: Kyocera Corporation
KYOTO, Japan — Kyocera Corporation announced today that its subsidiary, Kyocera Communication Systems Co., Ltd. (hereafter "KCCS"), has started joint research with the University of Tsukuba to develop an Artificial Intelligence (AI) system capable of detecting melanoma and other skin diseases by analyzing digital images of a patient's skin. The team aims to commercialize the technology by 2020.
Background
Recent developments in AI, image recognition, and IT infrastructure are facilitating great advances in the ability to analyze digital images. In the medical field, where digital imaging is already an essential diagnostic tool, AI-based image recognition offers revolutionary potential. Diagnosing skin diseases from digital images using AI will offer great advantages over conventional practices, which now often depend on the knowledge and experience of a physician.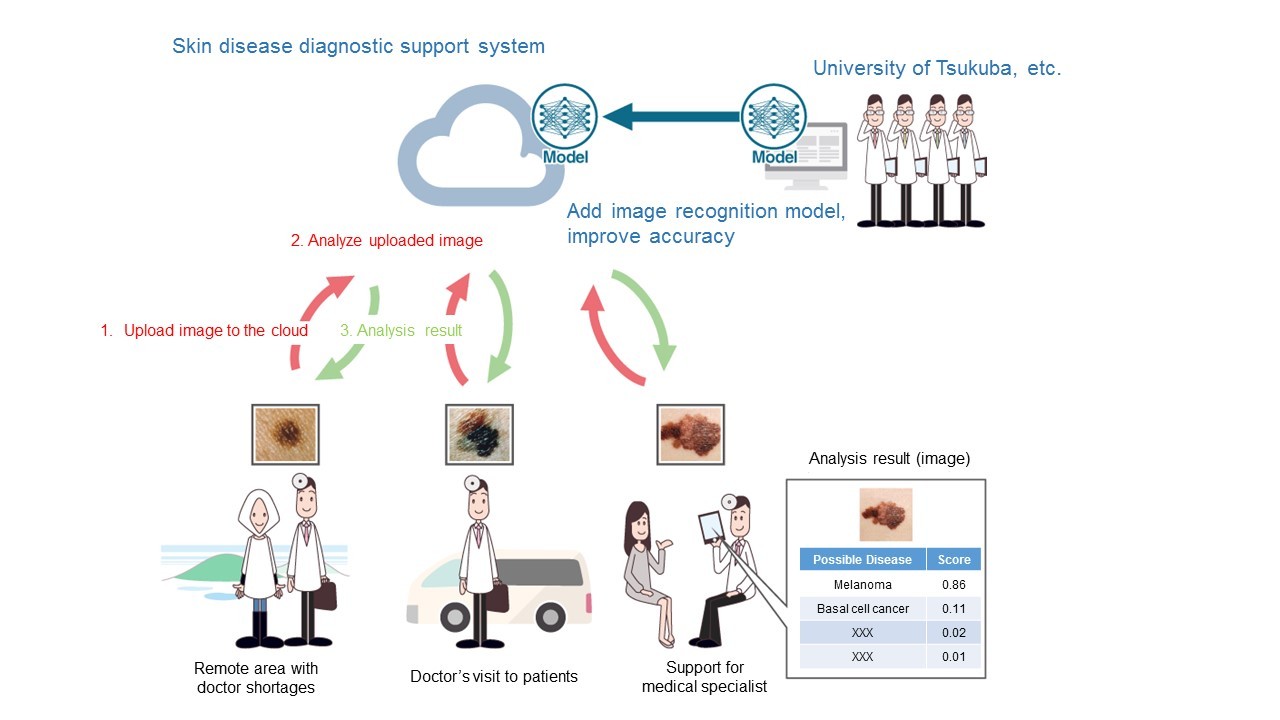 Skin disease diagnostic support system and potential applications
In Japan, the number of skin cancer patients has approximately doubled*1 from 1999 through 2014. Japan's Ministry of Health, Labour and Welfare has identified AI as a key technology in the healthcare and medical sector. Because skin cancer treatment outcomes are substantially improved by early diagnosis, better diagnostic technologies are in great demand.
Overview of the Joint Research
KCCS is now working with Professor Manabu Fujimoto and Assistant Professor Yasuhiro Fujisawa (both of the Department of Dermatology, Faculty of Medicine, University of Tsukuba) to develop an image-recognition system accurate enough to distinguish several types of skin malignancies, including melanoma. The next phase of their project will aim for image-based diagnostic support of any skin disease. In addition to helping dermatology specialists, AI-based image recognition could allow accurate diagnoses in rural and remote areas lacking a local clinician, using pictures from smartphones or digital cameras to greatly improve healthcare outcomes.
The project benefits from a database of more than 200 clinical images accumulated over 20 years by the University of Tsukuba Hospital's Department of Dermatology. The University's experiences and knowledge including these images will be instrumental in assessing image-based diagnostic accuracy in real-world conditions. Additionally, KCCS will bring unique AI-based image-processing expertise accumulated through Labellio — a cloud-based web service. The service allows any user to create a simple "drag-and-drop" image classifier powered by deep learning.
Roles and Timetable
Kyocera Communication Systems Co., Ltd.(KCCS):
Development of AI-based image recognition system
University of Tsukuba:
Provision of clinical image database, Assessment of system accuracy and adaptability
KCCS and the University of Tsukuba will conduct joint research from March 2017 through March 2018, aiming toward a commercial application in the fiscal year ending March 2020. Furthermore, they plan to develop a system capable of identifying more than 2,000 different skin diseases from digital images by combining their respective resources and expertise in the future.
*1 Based on patient survey by Japan's Ministry of Health, Labour and Welfare.
Product specifications and launch dates are subject to change without prior notice. All product names and company names mentioned are trademarks or registered trademarks of the respective companies.
Contacts
KYOCERA Corporation (Japan)
Natsuki Doi, +81-(0)75-604-3416
Corporate Communications
webmaster.pressgl@kyocera.jp
Fax: +81-(0)75-604-3516