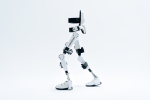 Revolutionary Robotic Treatment For Patients With Spinal Cord Injuries Now Available In United States
New advanced technology available at Brooks Rehabilitation, in partnership with Japan-based Cyberdyne, Inc.
Date: Mar 02, 2018
Source: Brooks Rehabilitation
JACKSONVILLE, Fla., March 2, 2018 – Brooks Rehabilitation, an industry leader in post-acute physical rehabilitation, announced today its partnership with Japanese medical and social innovation company, CYBERDYNE, INC., to introduce and make available the world's first advanced robotic treatment device that has been shown to improve a patient's ability to walk. Individuals with spinal cord injuries can now access FDA-cleared HAL, which is short for Hybrid Assistive Limb, at the Brooks Cybernic* Treatment Center in Jacksonville, FL. The Treatment Center is currently the only facility in the U.S. offering this innovative treatment.
Continue reading »