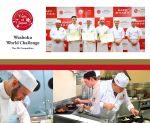 David Israelow from the United States Won the 1st Place in Washoku World Challenge The 5th Competition
Six contestants from the world competed for their highly skilled Japanese cooking
Date: Feb. 22, 2018
Source: Washoku World Challenge Executive Committee
TOKYO – Washoku World Challenge Executive Committee, runs the Washoku World Challenge, a cooking contest in which Japanese cuisine chefs from around the world compete in technical expertise and passion for Japanese food, organized by the Ministry of Agriculture, Forestry and Fisheries of Japan. On Feb. 13th-14th, 2018, six finalists from 5 countries and regions gathered for the final tournament held in Tokyo, and David Israelow (private chef) from the United States won 1st Place. The second place was a tie between two contestants, Christopher Brian Massad (Tankuma Kitamise) from the United States and Daniele Codini (The Ned London) from Italy.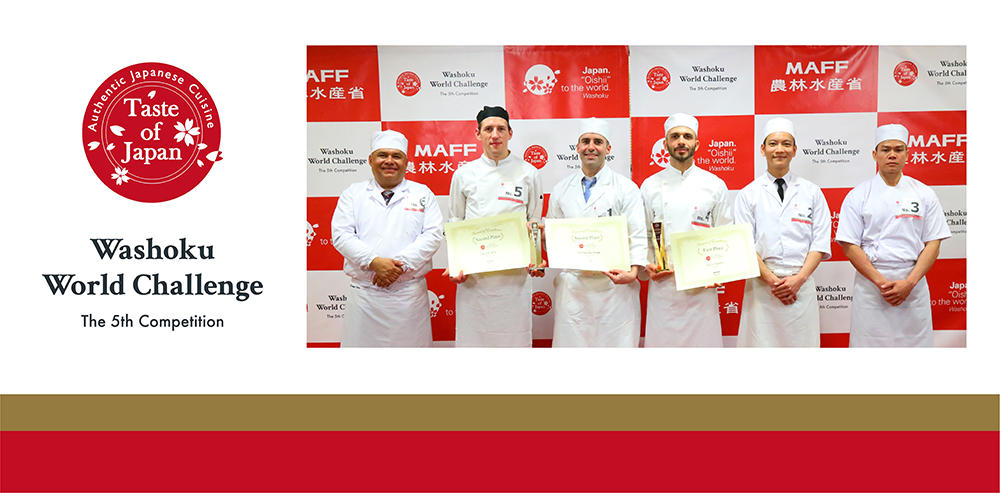 5th Competition Finalists
The theme of the Competition this year was UMAMI, which contestants sent their two original recipes (Suimono and Fuchidaka Mori) reflecting it for the application screening. Approximately 100 contestants from 23 countries and regions had applied for the competition and 43 advanced to the qualifying tournaments. The Qualifying tournaments was held in six cities (London, New York, Los Angeles, Bangkok, Hong Kong, and Tokyo) for the first time in the Competition's history. At the qualifying tournaments, they were judged strictly on their basic knife skills using Daikon (Japanese radish) and making Suimono using dashi.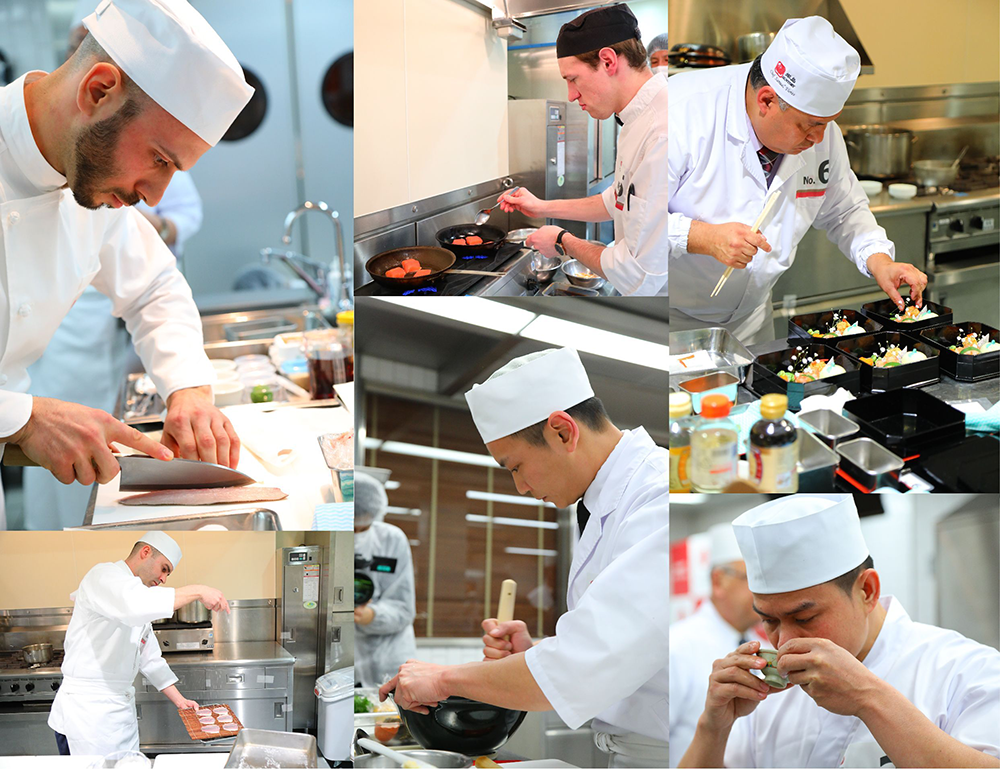 Final Competition of Washoku World Challenge 5th Competition
On day one of the final tournament, the screening was done by making New Year's Nimonowan, using same ingredients and preparation for their Fuchidaka Mori dish. On day two, contestants completed five Fuchidaka Mori dish cooking in a limited time.
The winner, David Israelow was selected for his sophisticated work reflecting traditional style and menu. He was also good at choosing ingredients using his knowledge. For example, the spinach he chose was one of a special type that is available only in winter season. These aspects surprised the Head Judge of the Competition and all the judges were very much impressed by the high-quality workmanship of every contestants.
FINALISTS
Tokyo winner (Uniform Number 1)
Christopher Brian Massad (Tankuma Kitamise) from the United States
Hong Kong winner (Uniform Number 2)
Wai Leung Ronald Ho (Matsunichi) from Hong Kong
Bangkok winner (Uniform Number 3)
Jidtinan Yotapakdee (Nihon Tei Inter-Co.Ltd.) from Thailand
New York winner (Uniform Number 4)
David Israelow (Private chef) from the United States
London winner (Uniform Number 5)
Daniele Codini (The Ned London) from Italy
Los Angeles winner (Uniform Number 6)
Samuel Flores Garcia (Restaurante Suntory Lomas) from Mexico
JUDGES
Mr. Yoshihiro Murata (Head Judge, Owner & Chef of Kikunoi, Chairman of Japanese Culinary Academy)
Mr. Masahiro Nakata (Deputy Head Judge, Director of Taiwa Gakuen Education Inc., President of Kyoto Culinary Art College)
Mr. Kimio Nonaga (NIHONBASHI YUKARI)
Ms. Lucy Birmingham (Journalist, author, editor and former president of the Foreign Correspondents' Club of Japan)
Mr. Kazuhiro Shimane (Deputy Director/ Food Industry Affairs Bureau, Food Cultures and Market Development Division, Ministry of Agriculture, Forestry and Fisheries)
Official website: http://washoku-worldchallenge.jp/5th/en/
Official Facebook page: https://www.facebook.com/WashokuWorldChallenge/