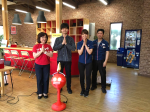 Japan's solenoid manufacturer Takaha Kiko starts mass production of a nice clapping robot "Big Clapper"
Date: Sep 17, 2017
Source: Takaha Kiko Co., Ltd.
Japan's solenoid manufacturer leader Takaha Kiko announced to start mass production of robot "Big Clapper" in early 2018, and Bye Bye World, the manufacturer and distributor of Big Clapper, are currently accepting 100 pre-orders now.
Clapping robot "Big Clapper" is developed and manufactured by Bye Bye World Inc. where located in Tokyo, Japan. "Big Clapper" is produced real clapping sounds from a shape hand made of special material, and to use for gets fun and rock in various occasion such as party, attracting people at front of store, supporting member of sports game, and in business.
Bye Bye World's Big Clapper Official Website (Japanese Page)
Pre-Orders Available from Bye Bye World (Japanese Page)
Big Clapper has 3 Fuetures
Fully automatic operation with easy use
The use of Big Clapper is very simple. For ordinary use, just turn on the main unit and select 6 situations such as "Anywhere", "Front of store", "In business office", "Nomikai (Drinking party)", "Birthday party" and "Watching sports". The Big Clapper with built-in sensor senses a person and begins to clapping. It also emits voice, and more than 100 words are prepared.
Control by smartphone
If you install a dedicated iOS application to your phone, the fun is infinite. There are a singing function, a musical mode which automatically adjusts to the sound in synchronization with the sound in synchronized with the performance of the tightening and the music in iTunes.
Design original costume for Big Clapper
We have optional services to set up utterances and design original costumes according to installation environment and usage such as drinking stores, mass merchandisers, and companies.
Bye Bye World Inc. and Takaha Kiko Co., Ltd.
About the Bye Bye World Inc.
Bye Bye World is a creative company directed by creator Masato Takahashi specializing in creative production within the field of entertainment. Their activities cover a wide range of platforms and media that fuse analog and digital technologies, including the production of robot, machine and toy works, product development, and performance.
Official site: http://www.byebyeworld.co.jp
About Takaha Kiko Co., Ltd.
Takaha Kiko was established in 1979. In addition to the fact that we have been welcomed as the dedicated maker of today's solar solenoid conductors, we are deeply grateful for the powerful support from our customers as well as the courteous support of the companies with whom we have collaborated over many years.
Official site: http://www.solenoid-japan.com/