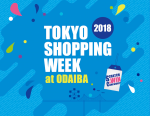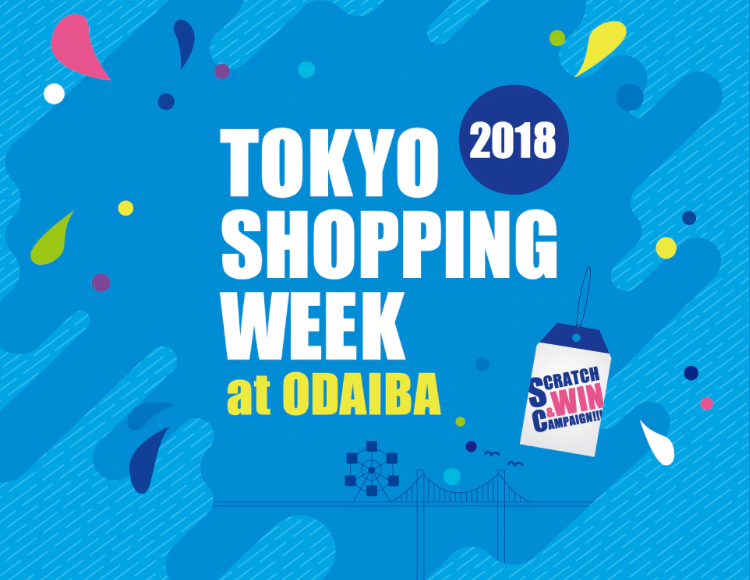 A Summer Shopping Campaign Spread out across 4 Shopping Centers in the Odaiba Area!
Date: June 29, 2018
Source: Tokyo Shopping Week at ODAIBA Campaign Desk
TOKYO – In time for the summer holiday from August 1st to 31st, nearly 480 shops located in Aqua City Odaiba (Mitsubishi Jisho Retail Property Management), VenusFort (Mori Building), DiverCity Tokyo Plaza (Mitsui Fudosan Retail Management) and DECKS Tokyo Beach (Tokyu Land SC Management), in cooperation with Visa Worldwide, will host Tokyo Shopping Week at ODAIBA, a shopping event aimed at visitors to Japan from overseas.
4 Shopping Centers in Odaiba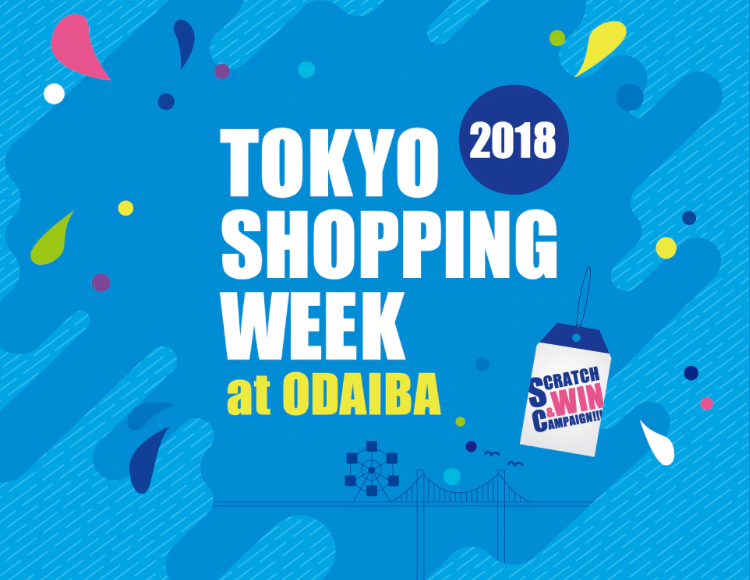 Instant win scratchcards available at 480 shops in 4 shopping centers
Tokyo Shopping Week at ODAIBA – August 1st to 31st, 2018

By actively approaching tourists, these four shopping centers hope to raise awareness of the Odaiba area in the years leading up to 2020.
During this campaign period, shoppers from overseas that spend 1,000 yen or more will be eligible to receive a scratchcard with a chance to win a shopping voucher worth up to 10,000 yen. Scratchcards will be distributed for each transaction of 1,000 yen, with an additional card given to shoppers using a Visa card. Winning scratchcards are usable for the duration of the campaign period for shopping and dining across all participating facilities.
To help visitors to get the most of their Odaiba experience, special maps with information about the campaign and the surrounding area will be distributed in English and traditional Chinese at participating facilities as well as at the arrival floor of Narita and Haneda international airports.
In addition, in a tie-up with the Taiwanese free paper Nihon Hodai, Odaiba Hodai, an original free paper for the event will be distributed to Taiwanese travelers to Japan, with an original tote bag for those visitors that bring their copy to the venue.
You are sure to want to keep an eye on Tokyo Shopping Week at Odaiba, a chance for visitors to Japan to get even more out of their shopping experience at Odaiba in the summer.
Tokyo Shopping Week at ODAIBA Details
Campaign Period: August 1st to 31st, 2018
Target: Foreign tourists
Hosted by: Aqua City Odaiba, VenusFort, DiverCity Tokyo Plaza, DECKS Tokyo Beach
In collaboration with: Visa Worldwide
Inquiries
We welcome all media or press inquiries directed at the hosts and participating shops. Please contact the TSWO2018 Campaign Desk at Brain Co. via the following:
Tokyo Shopping Week at ODAIBA Campaign Desk (Brain Co.)
Yasushi Okasaka, +81-3-5775-3654
tswo@brain-net.co.jp
Check the Youtube Videos of 4 Shopping Centers in Odaiba